Besides the WordPress script, another important thing to set up your own website is the theme. A WordPress theme is basically a template you can use to change the appearance of your WordPress site.
There are two categories of WordPress theme, free and premium. While the free themes provide basic functionality to your website, premium themes usually provide more features, functionality and better design.
Installing theme on your WordPress site is easy and straightforward.
To install a WordPress plugin, just follow these simple steps:
1. From your WordPress dashboard, hover to Appearance, and click on the Themes link as shown below.
2. Every WordPress installation comes with default themes. For example, WordPress 3.5 comes with Twenty Twelve theme.
3. There are three different ways to find a new theme:
Use the search form. Type in the theme name and click on the search button.
Use Feature Filter. Tick on the features you want on your theme.
Use the upload form. Click on the Upload link just above the search form.
4. For method 1 and 2 above, once you get the result, click on the Install Now link.
5. Once you have finished installing the theme, simply click on the Activate link. You might also want to preview the theme before activating it by clicking on the Live Preview link. You're done!.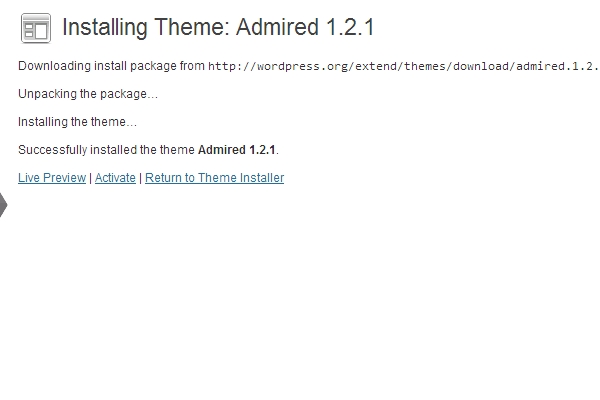 6. If you're using the third method, once you click on the Upload link, you will see the upload form as shown below. Click on the Choose File button and select the theme you want to upload. Make sure it is in .zip format.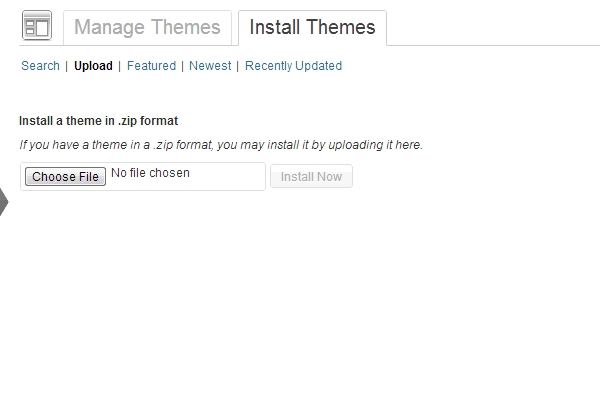 7. Once you have successfully uploaded your theme, click on the Activate link. You're done.
If you want to learn how to install WordPress plugins, make sure you read my very basic and easy-to-follow tutorial on WordPress101: Installing WordPress plugin.
Got any questions? Want to request or suggest a new tutorial? Simply contact me or leave your comment on the comment form below.