First, upload any CSV or XML to WP All Import. Then drag & drop to link the stock/price data from your file to your WooCommerce products. Set your import to run on a schedule, automatically syncing your products and keeping them up to date. New products will be created and existing products updated.
Creating a new import
To get started, create a new import and choose your import file. WP All Import gives you three different options to sync the stock & price data for your WooCommerce products – you can manually upload your import file, paste in the URL to your feed (including support for Google Drive, Dropbox, and Google Sheets), or you can upload the import file to your server and then select it. If you don't already have a file, WP All Export works seamlessly with WP All Import and makes it really easy to export your product data from WooCommerce.
I like to manage my data in Google Sheets, so I'm going to paste in the share URL for my Google Sheet.
Manually upload a file, download it from a URL, or use an existing one.
I'm choosing the "Existing Items" option so that I can update all of the products that already exist on my site, even the ones that were created manually or by other imports. This option is very versatile because it also allows you to create new products if existing matches aren't found.
Mapping prices to WooCommerce Products
Next, we'll continue to step 3. On this step, we need to drag-and-drop our stock and price elements into the WooCommerce Add-On. The user interface for the add-on is nearly identical to WooCommerce, which makes it very easy to find the fields that you need. First, let's drag the price fields in.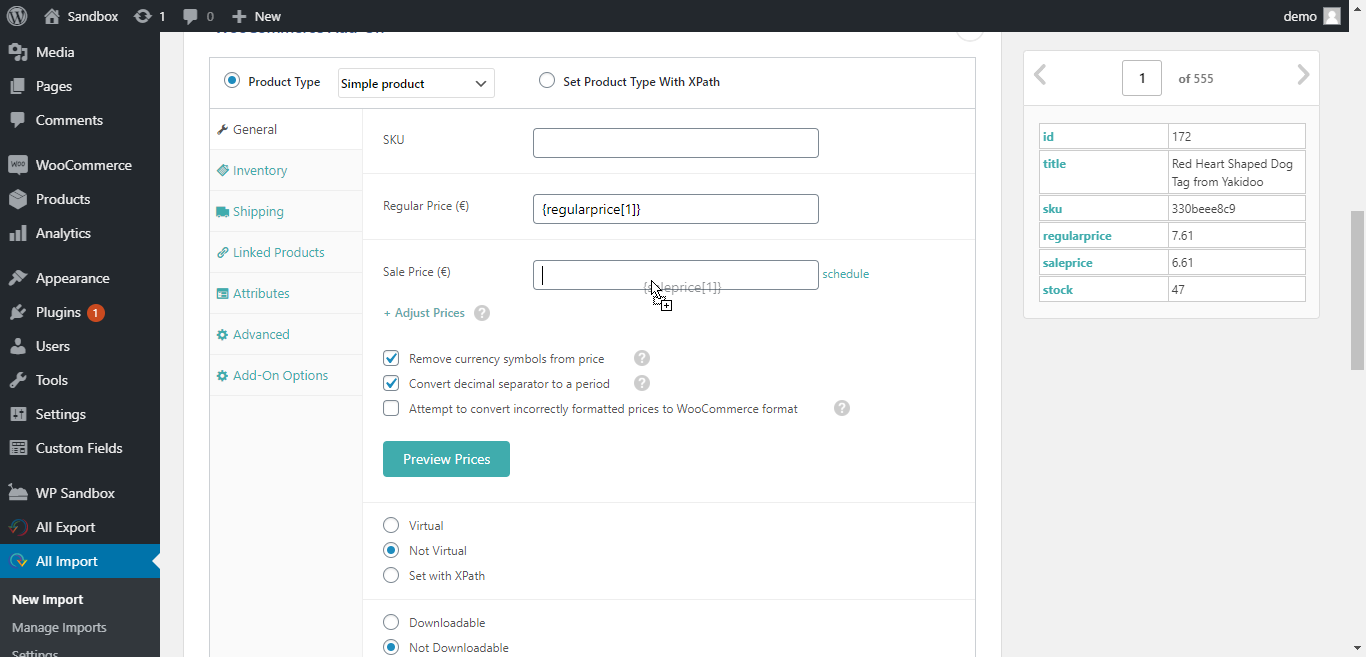 Drag-and-drop your data into WooCommerce fields.
Next to the sale price field, you'll find the "schedule" link – this would allow you to schedule your sales based on any date. You can use WP All Import's date picker to pick a static date range, or you can drag in import elements to set dynamic sale date per-record, it's completely up to you.
If your file is using a strange format for the prices, or if there are currency symbols in them, there's no need to stress because WP All Import has already thought of that. They have three options that cover pretty much any scenario you might run into; these options can: remove currency symbols, convert decimal separator to a period, and convert incorrectly formatted prices to valid WooCommerce format.
This is just another reason that WP All Import is the best option when you need to import WooCommerce price and stock – while most import tools require that you manually go through all of your data and make sure the format is exactly what's required by the import tool, WP All Import does that work for you.
Mapping stock to your WooCommerce Products
Next, we'll go to the "Inventory" tab of the WooCommerce Add-On.
Complete control over all aspects of your WooCommerce products.
As you can see on this page, we're given complete control over all aspects of our product stock data. We can control the manage stock option, import our stock quantities and low stock thresholds, turn back-orders on or off, and more.
I'm going to turn manage stock on and drag in my stock quantity import element. I'll also choose "Set automatically" under "Stock status", which means that WP All Import will automatically choose the correct stock status based on the stock quantity that's imported for each record (pretty slick, right?).
Final steps before running the import
On the next step, we'll choose how to find the existing products in our WooCommerce store. We can match products by their titles, content, post ID, or any custom field value, which gives us a lot of versatility. My import file has my product SKUs, so I'm going to match by the "_sku" custom field, which is where WooCommerce stores the SKUs.
Import stock and price to existing WooCommerce products.
If you want WP All Import to create new products when matches aren't found, you can keep the "Create new products from records newly present in your file" option enabled. Since I'm not doing that, I'm going to disable it and any record without a match will be skipped.
Next, I'm going to enable the "Choose which data to update" option so I can choose to only update the data that's in my file – the prices and stocks.
Choose exactly what you want to update and what you want to leave alone.
Keep in mind that this only affects existing products, if you're creating new products then they'll still have all of their product data imported.
Running the import
That's it. Click "Continue", then "Confirm & Run Import" on the next page, and watch as WP All Import quickly updates all of your products.
Update hundreds of WooCommerce products in minutes.
That was easy, right? From now on, every time I re-run this import, WP All Import will fetch the latest version of my import file to get the latest data and update my products.
Automatically syncing your products
Now, if you don't want to manually re-run the import every time you need to update the data, you can easily set up a scheduled import for WooCommerce products. On the Manage Imports page, click the "Scheduling Options" link next to your import, then click the "Automatic Scheduling" option.
Automatically sync your WooCommerce prices & stocks on a schedule.
Here, you can choose the specific days and times that you want the import to run, save the schedule, and that's it – your WooCommerce data will be automatically synced without any manual intervention.
And now we're done. In just a few minutes we've used WP All Import to set up an import to automatically sync price and stock for our WooCommerce products.