When I started blogging about 5 years ago, I used Blogger.com platform before switched to self-hosted WordPress about a year later.There were several reasons why I switched to WordPress and one of them is the threaded comment feature in WordPress. WordPress threaded comments make the discussions more interactive as people can reply to other people's comments, making it more interesting.
If you're still using Blogger, you're lucky since Blogger had introduced the threaded comments feature last year. In this article, we'll show you how you will be able to change the depth of threaded comments in your site.
By default, the threaded comments are set to 5 levels deep.
This is how you threaded comments will look like alike: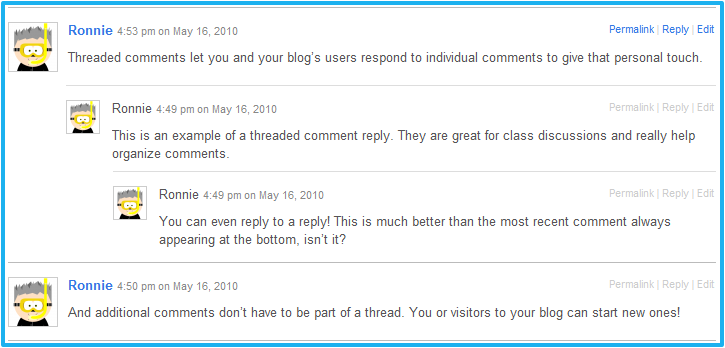 Since our threaded comments are set to 5 levels deep, we will no longer see the reply link or button after the 5th level comment. We usually choose the depth of the threaded comments to be between 2 or 3.
Lastly, if you'd like to completely disable the threaded comments feature, simply untick the option. However, I strongly do not recommend doing so as this prevents all users, including you, to reply to other people's comment.
If you're looking for more tutorials about WordPress comment section, take a look at these articles: