Every WordPress installation comes with various default widgets to help you add some features to your site. Currently, there are 16 default WordPress widgets:
Archives
Calendar
Categories
Custom Menu
Meta
Pages
Recent Comments
Recent Posts
RSS
Search
Tag Cloud
Text
Before this, we've written about a plugin called Widget CSS Classes plugin that helps to customize your widgets even further. But, what if you'd like to customize the output of the widget such as changing the search label on the search form or changing the order of categories listed in Categories widget?
Adding More Control to WordPress Widget
Enter Widgets Reloaded plugin. This is a free plugin by Justin Tadlock from ThemeHybrid that add more control to your WordPress widgets. For example, once you have activated the plugin, you will see new additional settings for most of the default widget.
Take a look at the at the settings panel of archive widget after activating the Widgets Reloaded plugin: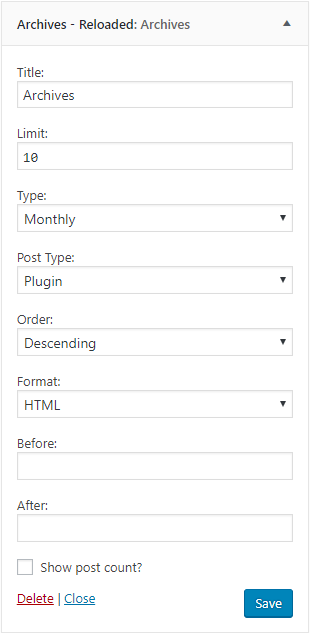 Besides few additional settings to the widget panel, this plugin adds two more additional widgets – Bookmarks and Author widget.
The plugin works great but we believe there are still rooms for improvement. Firstly, we noticed the plugin renames the Custom Menu widget to Navigation Menu widget. This might cause little confusion to some users. Secondly, we this plugin also deregister the default Recent Posts widget that is used by lots of bloggers.