Create a new export in WP All Export and select "WooCommerce Orders" from the drop-down, then drag & drop the order data to customize your export file. Next, you can set your export to run on a schedule to automatically update your export file with the latest orders.
Create a new WooCommerce Order Export
If you're looking for an easy way to export your WooCommerce orders, WP All Export is the solution you've been searching for. After installing the plugin, create a new export and select "WooCommerce Orders" from the drop-down menu.
Here you'll find two options: Migrate Orders or Customize Export File. If you're using WP All Export & WP All Import to migrate your WooCommerce Orders to another site, then just click "Migrate Orders" and WP All Export will automatically include all of the order data that you need for the import. Upload the export bundle to a new import on your other site and the import template will be automatically set up for you.
Use filters to decide which WooCommerce Orders to export
On this page you'll also find that WP All Export can export your WooCommerce Orders based on pretty much any criteria using filters. As an example, if you just wanted to get the orders with the status "processing" from the past 7 days, you could set up 2 filters in the "Add Filtering Options" section:
Select "Order Date" as the element, "equal to or newer than" as the rule, then "7 days ago" as the value.
Select "Order Status" as the element, "contains" as the rule, and "processing" as the value.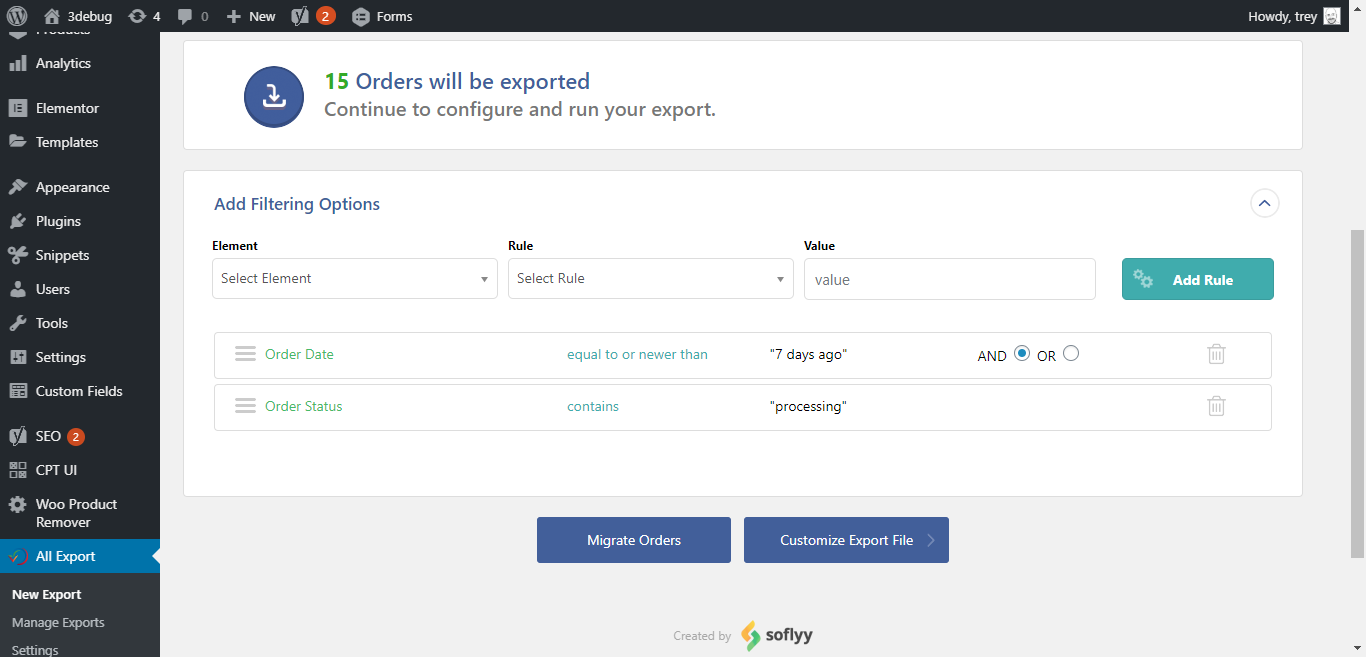 You can set up multiple filters using different elements, nest them together, and more. This really gives you full control over your data and is another reason I consider WP All Export to be the best plugin for exporting WordPress and WooCommerce data.
Designing your WooCommerce Order spreadsheet
Now, let's click "Customize Export File".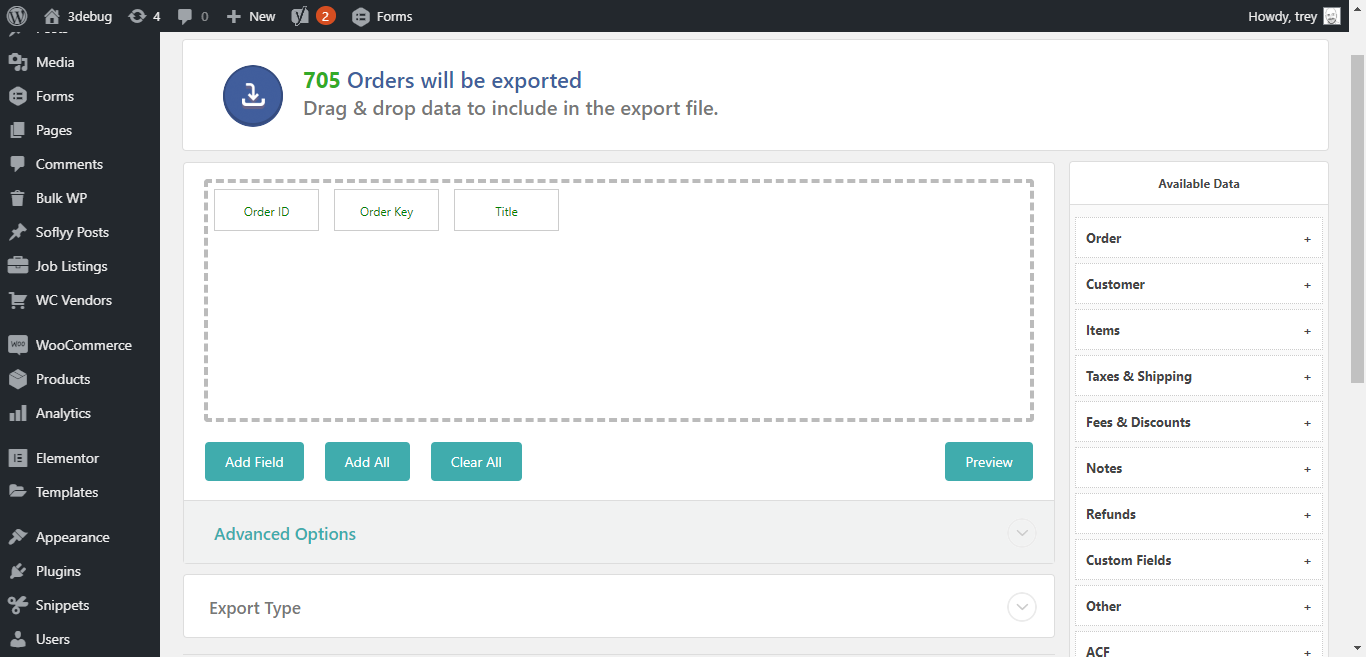 Here, you can drag and drop any data you want from the well-organized "Available Data" section on the right side, or you can click the "Add All" button and WP All Export will automatically add all of the fields to your export file for you.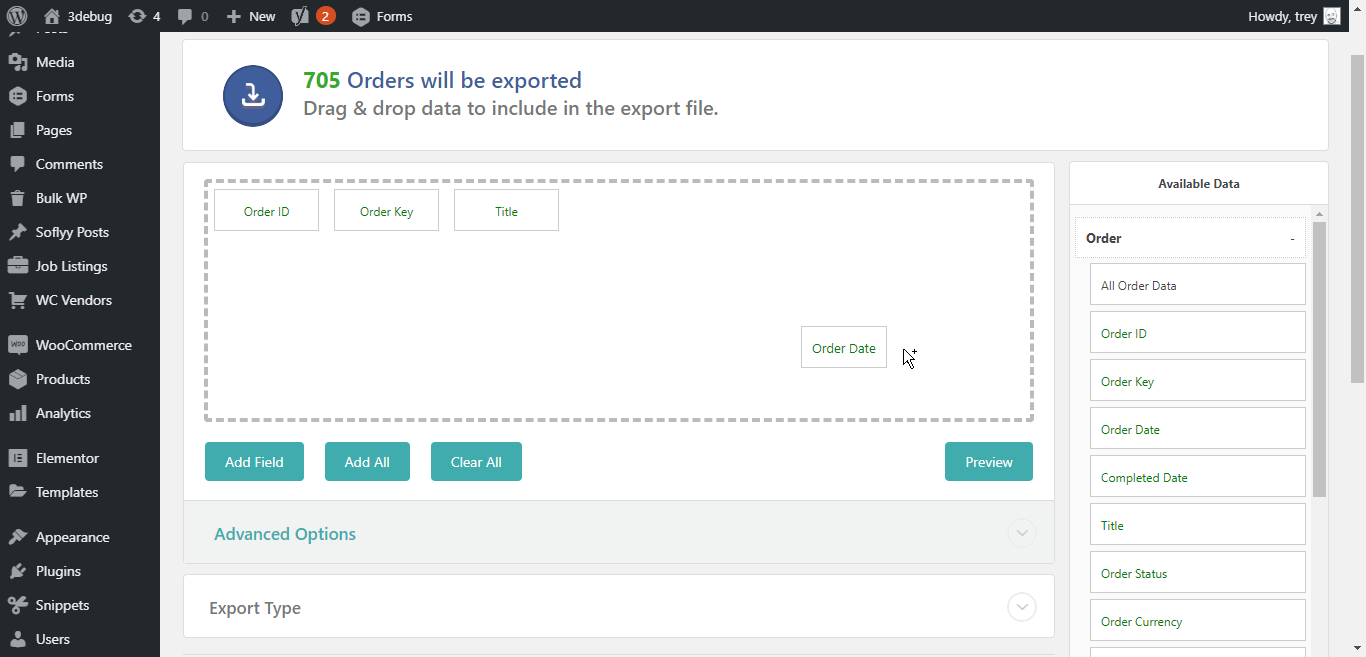 If you need to remove a field from the export, you can just drag it outside of the box to remove it.
Once you've added all of the fields that you want, you can use the "Preview" button to see exactly what your export file will look like, including real data from your orders.
Export WooCommerce Orders to Excel, CSV, or XML
The default export file type is a CSV spreadsheet, but if you need to export your WooCommerce Orders to an Excel or XML file, you can switch the file type in the "Export Type" section. For spreadsheets you can choose between a CSV file or Excel file:
And for XML files you can either do a simple XML file or design a custom one: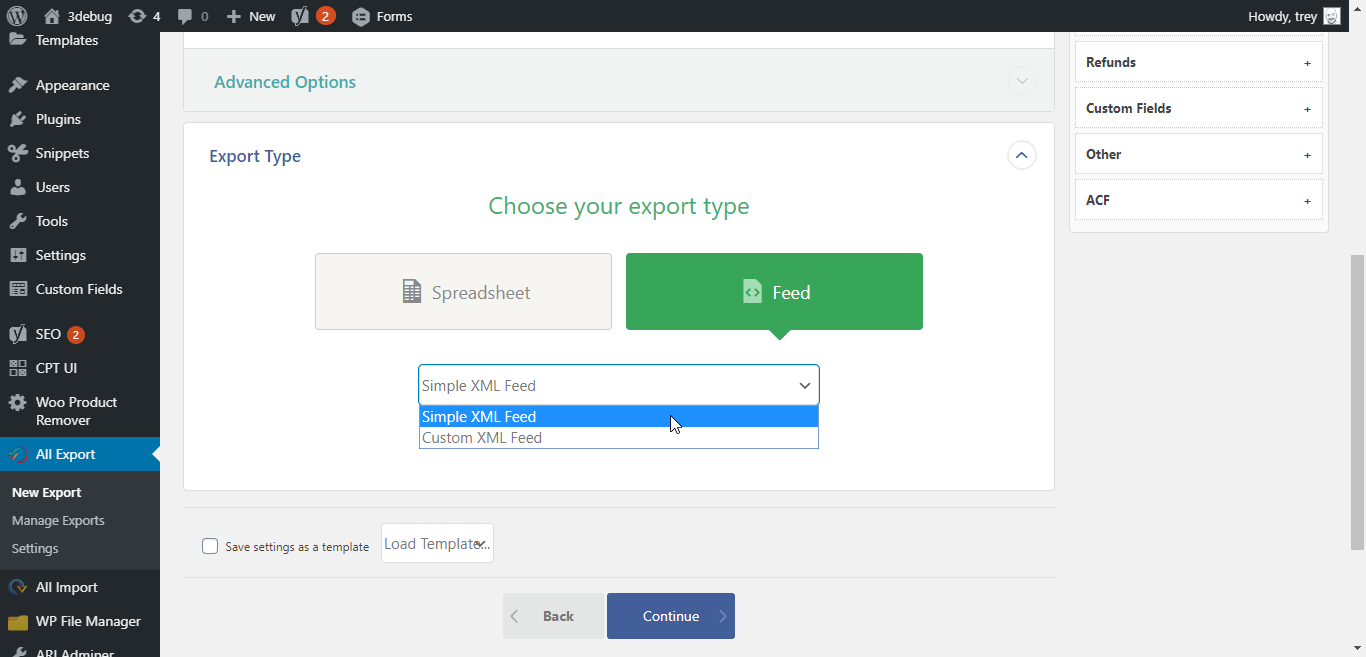 We'll stick with a regular CSV spreadsheet for this example and continue to the next step.
Export WooCommerce Orders on a schedule
If you want your export to automatically update the export file with your latest order data, then you can set up an automatic schedule on this page. I'm going to set mine to run 3 times per day on all weekdays.
The "Advanced Options" section probably won't need to be touched by most people, but I did find a few really useful and cool options in that section:
"Only export Orders once". Enabling this option makes it so that you only get new orders when you re-run the export.
"Only export Orders that have been modified since last export". This means that your export file will only contain orders that have changed (for example, the order status being updated) when you re-run the export.
"Friendly Name". This is the name that's shown on the manage exports page, which can be really useful if you're setting up multiple exports.
OK, now you can run the export to generate the export file.
Running the export
You can tell that the Soflyy team, which has been building plugins to export WordPress and WooCommerce data for years, have spent a lot of time optimizing this tool – I was able to export all 705 of my orders in just 17 seconds.
On the export complete page you have easy access to your data and some other actions that you may find useful. On the "Download" tab, you can download your export file or download the export bundle if you need to import the orders on another site. You'll also find the "Public URL", which is a URL that can be used to access the latest data file created by this export.
We touched on setting up automatic scheduling earlier, but if you didn't set it up then you can set it up now on the "Scheduling" tab.
Export orders to Email, Dropbox, Google Drive and more
In the "External Apps" tab, you can learn how to connect your export to external apps via Zapier. This allows you to do things like automatically send the export file to someone via GMail, upload the file to Dropbox or Google Drive, or even send information about the export to a spreadsheet in Google Sheets. There are hundreds of other things that you can do with this integration, so it's definitely something that's worth spending time to check out.
Update your WooCommerce Orders in bulk
Finally, in the "Export, Edit, Import" tab, you'll find information on how you can bulk edit your WooCommerce orders with just a few simple steps:
Download your CSV file and make the edits.
Click the "Import with WP All Import" button and upload your edited file.
Run the import to update your orders.
I actually couldn't believe how easy this made it to update the statuses for my orders in bulk. I don't see myself ever going back to doing it manually.
Finishing up
OK, we're done. It only took us a couple of minutes to export over 700 WooCommerce Orders, and all of the data related to the orders, to a spreadsheet that can be easily viewed and edited with Excel.
Now, what should we do with all of the time we saved?