If you're launching a new app, a great landing page is very important as it will give the first impression to other people about your app. While any WordPress theme can be modified and redesign to create a landing page to showcase your app, we decided to share with you 8 great, hand-picked WordPress themes for app showcase. These themes will surely help you create your landing page even faster and worth every penny.
1. Appdev
Appdev comes with a unique and minimalist design. Appdev was built with simplicity in mind so any marketer or app developer can use and setup their own showcase page without any hassle. Moreover, Appdev is a one-page theme. Its responsive design will help to maintain your site looks perfectly awesome on any devices.
Moreover, another great features of Appdev are custom page templates, custom widgets, sliders, portfolio page and icon font. This theme is also retina ready.
Demo and Download Theme
2. MyApp
MyApp is claimed to be an easy-to-design theme. It comes with a framework that allows any user to easily design their site without having knowledge of CSS or HTML. Moreover, this theme comes with Frontend Themebox which means you can design your theme while looking at the front end of your site. This can be a great experience while designing your site.
Another features of MyApp are pricing tables, unlimited color settings and over 200 fonts can be choose from. This theme also comes with PSD files which can be really useful to designers. MyApp also supports WPML plugin, thus allows you to create your website in any language you want.
Demo and Download Theme
3. Grizzly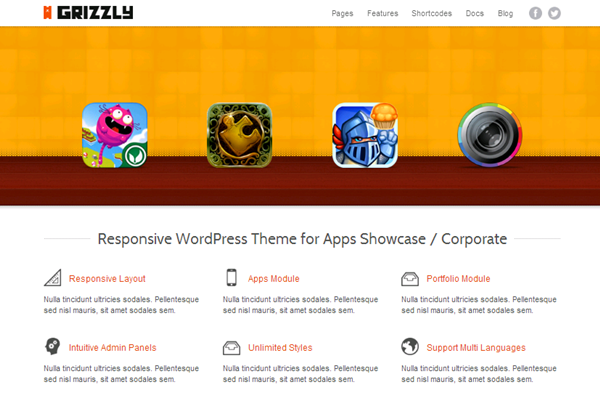 Grizzly is another great option to showcase your app. It comes with a modern and simple design. This theme comes with 7 custom widgets, sliders, contact form and 179 icon font to choose from.
Grizzly is a SEO friendly theme and also support rich snippet. At the time of writing, this theme has been purchased by more than 2000 people so you surely can't be wrong. If you are into simple and attractive design, Grizzly is probably your best option.
Demo and Download Theme
4. Caelus
Another theme in our list is Caelus. Caelus is built with Bootstreap and comes in 2 color schemes. If you want to have a signup form for your newsletter, this theme is probably the best option as it supports Mailchimp newsletter service out of the box. Moreover, Caelus is a translation ready theme which means you can choose any language of your choice or simply translate it to your own language, easily.
It's responsive, which means your site will looks great across all devices such as iPhone, iPad or any other tables and smartphones. Another features of Caelus that are worth mentioning are, but not limited to countdown timer, sliders, 8 custom widgets and various social icons.
Demo and Download Theme
5. Appix
Appix is a one page WordPress theme to showcase your app. It also can be used for porfolio site. This theme comes with custom page template, contact form, testimonials, and lots of shortcodes. Appix comes with layered PSD files which can truly be useful for web designers. This theme is aimed to make creating your website very easy and therefore can be used for all types of users.
Demo and Download Theme
6. Appland
This theme comes with parallax effect, which is one of the new tecnologies in web design that makes your website looks unique and up to date with latest design trend. Appland is a one page WordPress theme with 5 sections, perfect to put some slideshows, app features, testimonials, screenshots and contact form.
Appland is built with Bootstrap and is fully responsive, which means it will have pleasent view for all type of devices. Another reason you might want to buy this theme is because it comes with great customer support.
Demo and Download Theme
7. Mobera
Mobera is another theme that is worth mentioning in our list. It comes with powerful theme options that allows users to design their site in few clicks. It is retina ready and comes with 7 custom widgets as well as more than 100 Google custom fonts to choose from.
Besides theme options, another reason why this theme is worth every penny is because it comes with Visual Composer, a powerful page builder that allows you to build custom page template by drag and drop. Visual Composer is a very popular plugin and the plugin itself usually cost you for $25. However, with Mobera, you'll get all the great features of Mobera and will get this plugin for free. Yes, free.
Demo and Download Theme
8. Crealand
Crealand is another one page WordPress theme in our list. It comes with the simple and bold design. It's a responsive theme and supports Flexider plugin out of the box. Flexider is a great plugin that helps you add as many sliders as you wish in minutes.
Crealand also comes with the stylish contact form, slideout menu, and popup login form. If you love Facebook Comments, you're very lucky as this theme also supports Facebook Comments out of the box.
Demo and Download Theme