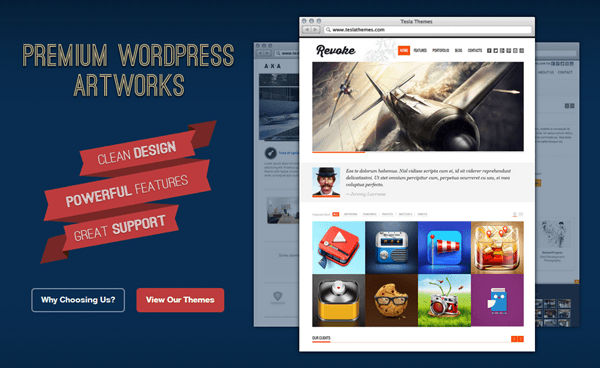 Are you a WordPress user or a website owner looking for a new theme for your WordPress site?
Introducing TeslaThemes.com, a brand new Premium WordPress Themes club just launched few weeks ago. Yes, they're still new but hey, see what they already got in their store. All themes are well-design, comes with custom widgets and responsive, which means your site will look awesome on any mobile phone and tablet too.
If you want to read more about TeslaThemes, you probably want to read the interview that Jeffro from WPTavern had with them few days ago.
Features
Every theme is powered by Tesla Framework, a powerful administration tool that allows you to customize your site with only few clicks.
Pricing
I love their pricing. There are two options, theme club and single theme purchasing. A single theme only cost at $25 of one-time fee and this is relatively cheap compared to most premium WordPress themes available from Themeforest. Buying a single theme is a better choice if you just want to use the theme at your own site only.
For the theme club, there are two types of license – a standard license and developer license. The standard license cost at $35/year and the developer license only cost at $55/year. Subscribing to any of these licenses will give you access to ALL current themes and future themes. If you're a WordPress designer, the developer license is probably the best choice as it comes it PSD file.
Special Promotion
To celebrate its launching, TeslaThemes is running a limited to offer – buy any theme and get the second one for free. This means for the price of one theme, you'll get two themes.
However, this offer ends on 16th June so please take fast action, get your own copy of premium WordPress themes from TeslaThemes and customize your WordPress site to your liking.
To see all the themes currently available, please see the themes listing page.