As a developer, I always look for any tool that will make my productivity to the next level. Managing multiple sites for many clients is a tedious task if you do it manually. If you are monitoring 10 sites, that shouldn't be a problem, but what if you're managing about 30 sites?
Previously I've shared about a little plugin called WP Updates Notifier, a plugin that will send you an email notification whenever the plugin, theme or WordPress core needs an update. If you're managing a small number of sites, that would be a great tool. However, for a bigger number of sites, that's not enough. You still need to manually update them one by one which will consume lots of time.
Introducing WP Remote, a simple tool to manage multiple sites.
What is WP Remote?
WP Remote is a simple plugin to remotely monitor your site. The service is available for free and currently, there's no limit to the number of sites you can add to WP Remote. Furthermore, WP Remote just introduced it's first paid service, Automatic Backup, priced at $5/month per site.
In order to use the service, you need to create an account at WP Remote site and install The WP Remote WordPress plugin to connect your site to your WP Remote account.
The service will never ask for your site username and password. To make sure your site is safe, WP Remote communicates your site using a unique API key and is stored in encrypted form. You may want to refer to WP Remote Security page for any concern about your security.
Features of WP Remote
Monitor all your WordPress sites from one place.
Sites can be organized into groups.
Track the WordPress version each site is running and easily update theme with 1 click.
Track all your plugins and themes and 1 click update them.
Monitor unlimited number of sites for FREE.
Back up your database and files for $5/month per site.
How To Use WP Remote
1. Firstly, you need to add your site, one by one to your WP Remote account. Simply put the name or URL of the site.
2. Install and activate the WP Remote plugin. It should be very similar to install other WordPress plugin. Once the plugin is activated, you'll see a notification with a litte box to insert the API key.
3. Copy the API key from your WP Remote dashboard and paste it in the notification box. Then, save it.
4. From your WP Remote dashboard, hit the Refresh button to verify your site.
5. In the Updates tab, you'll see a list of updates available for each site. You will be able to update them one by one or all of them with just on click.
My Thoughts
Being a free plugin, this plugin comes with great support. All support must be made in the WPRemote dashboard.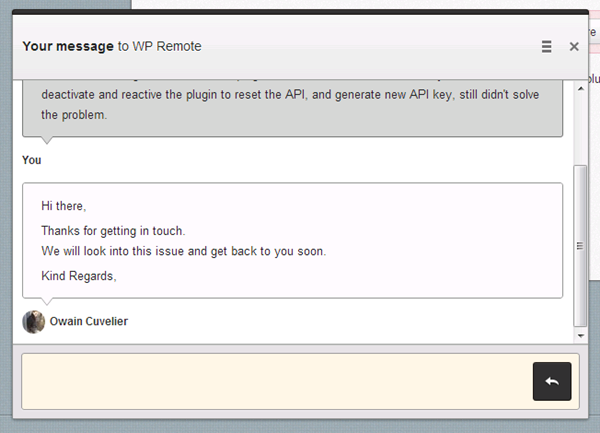 I like the minimalistic design of the dashboard and I found to the be very intuitive. However, I found the service is somewhat buggy.
For example, when there's update available for parent theme, WP Remote will also show update notification for child themes.
However, when I click on the update button for the child themes, I got an error.
I believe WP Remote is a great service and there is room for improvement. If you're looking for a good tool to manage large number of sites, WP Remote is a great choice. However, if you're looking for more features, take a look at ManageWP.