When it comes to finding an all-comprehensive WordPress website builder, Oxygen is ranked as one of the best options available on the internet. Being technically easy to handle, providing users with lots of plug-ins and additional options, it has a comprehensive that is hard to find in other website builders. Needless to say, Oxygen makes it difficult to find or even use any other alternate software for website building. Soflyy is the development house behind Oxygen, which is currently working for the improvement of the Open Source Software. Oxygen's original version, 1.0 has expired since its successor Oxygen 2.0 is released on 20th June 2018. The new version is bound to have more features and upgrades than the 1.0.
Some Appealing features
As amazing as this website developer is, Oxygen is not a tool which can be used by beginners. A basic to medium level know how of Word Press is required to gain the maximum advantage of Oxygen. Here is a detailed guide of all that Oxygen has to offer:
Customizing headers and footers is never an issue while using oxygen. With a few simple clicks, it allows its user to customize headers and footers of the website they are developing.
A great feature is the "live preview". Users do not have to engage in the hassle of refreshing the page after they have made new changes.
Through Oxygen, HTML, and CSS advanced properties can be controlled such as headings, text links, text blocks, images, icons, code blocks, and sections.
Oxygen has inbuilt ready-made page blocks and also some inbuilt changeable page designs that help users create websites quicker and smoother than usual. It also includes demos for customizable pages.
Oxygen can be created to use mobile responsive designs.
It also provides the options to insert third-party plug-ins such as sliders, forms, and menus, widgets, PHP, and shortcuts. This feature enhances website development.
Oxygen has collaborated with Typekit, which directly allows users to download and use fonts of their choice from the original makers. Other than this it has 800+ Google Fonts which are available for users.
A journey through Oxygen
It is amazing to know that in reality Oxygen is actually an advanced Word Press plugin. one that has the ability to change the entire interface of websites. It even has ready made page templates that entirely change the outlook of user's websites. Other than this the wide range of crucial built-in page blocks, units, and shortcodes equip the users to build websites without having to worry about software programming and language. The styling of websites can be done through Oxygen which allows users to change colors, themes, and other stylistic aspects only with a few clicks.
Here are few simple steps through which you can install Oxygen:
In order to begin, you must purchase the original software from Soflyy. After purchasing you will be directed to a confirmation screen from where you can click on the download option of the Oxygen zip file showing on the screen.
Click and copy the license key of the software you have purchased. It will show on the same screen. This key is later required to be pasted into Word Press.
Open your Word Press. Go to plugins, and click on add new.
Select the option to Upload file then choose file then select Oxygen.zip from the computer and begin the installation.
Select the option of install low and wait for the installation to complete. It is recommended that you carry out this entire process in Google Chrome.
Once the installation is complete you will be identified with a link. Choose the Activate plugin link.
In Word Press, go to admin, then go to Oxygen and select the license option. Insert the license key into the space given and click submit. By doing this your license will be activated.
Once your license is submitted you will constantly receive the updates regarding Oxygen from the servers.
The fact that Oxygen has pre-built pages and components allows the users a quick start into website development. These tools can be used as per the need of the website content and how themes are to be applied to the required design. These components are mobile friendly as well.
How to install components to use with Oxygen?
Go back to the screen where purchase confirmation showed up and you will find a license key for downloading the components. Copy that.
Open Oxygen in your WordPress dashboard. Enter the license key in the box next to the design sets and components.
Click Submit to validate your license.
Oxygen is a user-friendly plugin and it is designed for those who want to add value to their website. If you are a beginner or a regular WordPress user who is happy to work on the routine website builders, you don't need Oxygen. Oxygen is targeted on those who value the architect of their websites and don't want to get into the hassle of coding. Considering that there are numerous templates and demos available, one can do everything just in one plugin.
That being said, we don't tell users to install Oxygen just for styling a few pages. Oxygen is more than a page builder and one shouldn't be spending money unless they can take full benefit of its pros. However, you can go use Oxygen along with other page builders to make your website value-added.
The Oxygen Menu in the WordPress
After completing the installation, you will see an option of redirecting you to the Oxygen. The tab has a couple of sub-tabs named following:
A whole new range of demo websites, page templates, headers, footers, and custom posts are available here. You can pick any template and customize it as per your demand.
This option allows you to upload new icon sets using IcoMoon by using SVG Sets.
This function lets you import and export codes to and from websites built on Oxygen.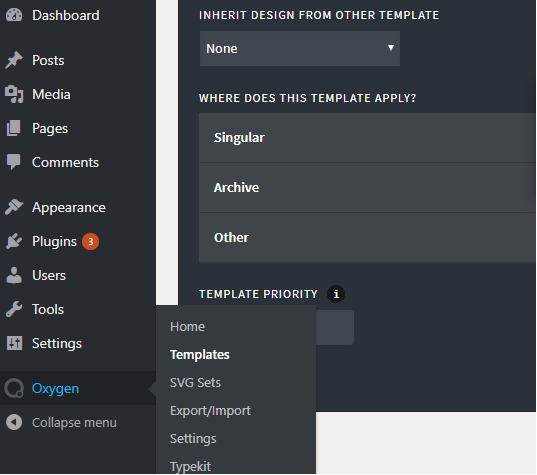 Soflyy, the organization behind the development of Oxygen, recommends installing Oxygen in Google Chrome. This is just to ensure a smooth installation because the testing has been done on Chrome only. However, users are free to do editing in whichever browsers they like. The chances of bugs and errors are unlikely and negligible.
Creating a new page
Create a new page in WordPress by going to Pages and then press "Add New".
Add a title for the page and press "Publish". This will make it live.
Find Oxygen on the left-hand side of your menu bar. Select the visual editor from there and continue customizing your page.
You can choose the architecture of your page as you want.
In Oxygen, you will find a +Add button that is placed at the top left. Clicking that will show you a couple of tabs that can help you add sections to your website.
The five tab will have the following:
The Fundamentals tab includes all the basic HTML elements such as images, text, sections, columns, headings and Div blocks. There are more options as per the need of the user.
The WordPress tab contains various shortcodes, widgets, and plugins. You are free to add widgets where ever you want and not just in the sidebars like other website builders.
This tab has those components that you will be using very often. You don't need to use those components afresh every time. Loading it on one page can bring them to all others unless you wish to customize otherwise.
The Components tab has your "hero" sections, footers, headers, pricing and content sections. These options are linked to the oxygenapp.com.
You will find plenty of pre-built elements in this tab. There are 5 demo sites, around 40-page templates, and 160+ components. All of these templates are customizable and saves the trouble of starting things from scratch.
Once you have added the desired elements in your page, you can click "back to WP>Dashboard" on the top right and go back to the page where you can preview your architect by clicking the link at the top. In case if you need to edit it any further, you can repeat the whole process.
Our Say about Oxygen 2.0
Oxygen is amazing with very less room for improvement. The plugin saves you from the difficulty of using multiple platforms and extends its customization to headers, footers, and sidebars. The pixel-level control and the real-time feedback are one of its unique features. Beginners can benefit a lot from its pre-built templates and those who find coding hard should immediately opt for it after its release. There are ample opportunities available for you to style your content and see the preview alongside. One room for improvement that some may find is its inability to add grids. Users have to add custom grids by slight coding. However, those who aren't new to WordPress may won't find this as hard as the beginners do. We can always hope that Soflyy will overcome this in the new variant that is launching and the Oxygen becomes a full-fledged plugin for all!