Most of our visitors are bloggers and business owners. Well, if you are a blogger, your blog posts may be reaching thousands of audiences all around the globe. Most of us write in English because English is considered as an international language.
Anyway, are you making any spelling mistakes or grammar mistakes while writing?
We will. Mainly we are in a rush.
However, we have got a solution for you to check spelling mistakes, grammar mistakes, and everything you need with errors! We welcome you to Grammarly – a freemium spell check tool used by millions! In this post, we will be sharing the Grammarly review for you!
Grammarly Review
You know there are so many spell check software is available. And most of them are freemium. But we will always recommend the best ones for our visitors. In this post, you will learn the features of Grammarly and why Grammarly is #1 in the industry.
Freemium
Grammarly got a free plan with the basic features. You don't even need to enter your Credit Card details for the free version. You can get it by just signing up on the website with your business email address or personal email address. Once you got verified the email address, you are on the Grammarly free version.
Apps
Wondering how to use it with your favorite apps?
Grammarly got you covered!
Most office staff and professionals will use Microsoft Office. If you are one of those, you can easily download the Microsoft Office add-on and edit your documents right from there.
If you prefer writing docs offline on your Windows PC, you need this Grammarly For Windows. You can drag any files you want to check to this software. It will automatically show you all the errors. Plus, the software will be updated to the latest version automatically when the development team releases a new update.
For Google Chrome users just like me, there's an extension available called Grammarly For Chrome.
You can add it to your chrome browser, sign in to your account. Then, when you write something using the Google Chrome browser, the Grammarly editor will be there on most websites!
Just like this.
A red underline will address all the spelling mistakes, punctuation errors, grammar mistakes, etc.
Personal Dictionary
Usually, the software will mark every non-English word you type in.
Got something you need to exclude from the spell check? It can be your name, someone else's name, or anything related.
You can add those words to your dictionary. So, Grammarly won't trigger the warning for those. This can be done while writing content or from your account settings.
Works With Most Websites
No matter which website you are using through Google Chrome.
Grammarly works well with most websites. So, you can check the spelling, grammar, right away!
Weekly Insights
Every week, they will send you a detailed newsletter containing your writing stats. You will get it on your registered email address. Here's an example.
If you don't want it, you can quickly turn off the emails being sent from your Grammarly account.
Pricing
Ready to go with the Grammarly premium?
See the pricing.
They have three premium plans.
Monthly – $29.95 a month.
Quarterly – $19.98 a month.
Annually – $11.66 a month.
If you are writing regularly, I recommend you using the Annual plan just like me. There, you will get maximum savings. You can use your Credit Card for processing the payment. Once you completed the purchase, you can log in to your Grammarly account, claim the premium features.
If you need to upgrade or downgrade your plan, you can log in to your account, go to the subscription section under Grammarly settings, change it from there.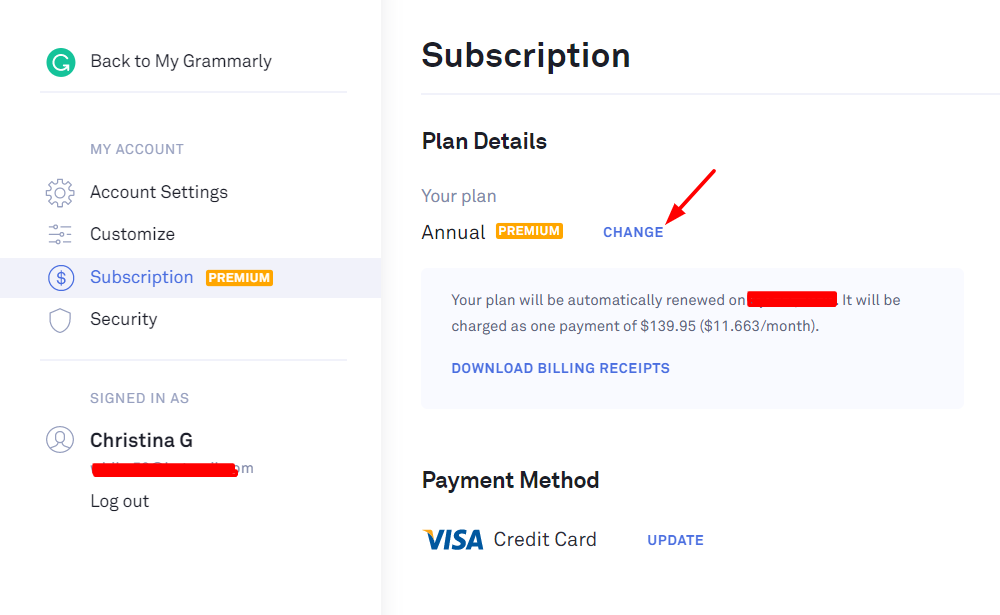 It's simple.
Get Started With Grammarly
You can get a free trial or directly purchase the premium plan from below.
I hope you found this post useful and enjoyed the read. If you did, please consider sharing this post with your friends and fellow bloggers on social media. If he/ she is suffering from spelling mistakes, Grammarly will probably help him!
If you are running a multi-author blog and need to track the author's performance, feel free to check out our article on how to follow multi-author blogs.