Google Docs is a really great tool to do an online collaboration with other people. When I was in university, I used  Google Docs to make it easier to group with other group members remotely. Besides Document, Presentation, and Spreadsheet, there's another option for you to create a form.
I've seen many people use this form to do an online survey since it's really easy to share to form with other people. All you need is the link.
However, what if you'd like to embed the form in your site?
It's easier than what you thought. In this tutorial, I'll show you exactly how to do so. This tutorial should work on WordPress and any other platforms that allow you to embed an iframe script.
1. First, as usual, create a form for your project. Simply hit the Create button and choose Form from the drop-down.
2. Next, create your own form. There are lots of options to choose from and therefore we're not going to cover the detail in this tutorial. Once you've done with the form, on the top right corner of your screen, you'll see a Send Form button. Click on it.
3. You'll see a new popup with a link you can share. This is the link you can use to share the form with other people. If you noticed, there's an Embed button just beside it. Click on it.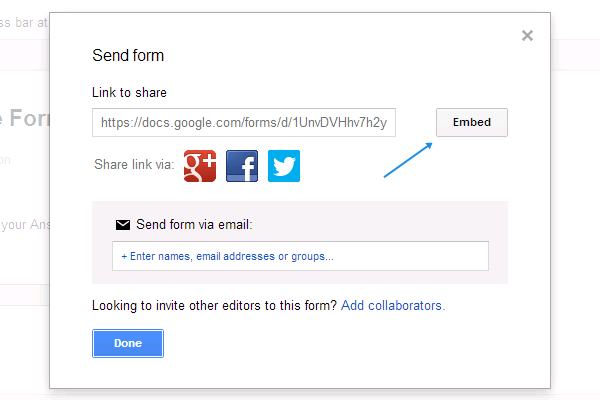 4. Simply copy the embed code. You can also define the size of the form to be embedded in the post editor.
5. Paste the code in the post editor. Make sure you change to the Text tab and paste it there.
We're done. If you'd like to see the form in action before publishing the article, hit the Preview button. It's simply that easy. Once you've finished writing the article, click on http://crayonux.com/demo/ button to publish the article.