When talking about SEO, there are two main components, on-page SEO, and off-page SEO. On-page SEO is anything you do to your own website to make it SEO friendly. Either than using SEO friendly theme such as Genesis Framework, an internal link is another way to optimize you on page SEO. In this article, I'm going to show you how to build internal link effectively using the WordPress built-in feature.
By building internal link, you are linking back to your existing articles.
Benefits of Building Internal Link
By linking to an old article, Google bot will crawl it back, so it will maintain or get a higher position in SERP.
Secondly, readers might be interested to another link you are linking. They click on the link and continue reading another article on your site. Since they stay longer on your site, this will reduce the bounce rate of your site. The lower the bounce rate of your site, the better it is. It indicates the length of time people stay on your site and relevancy of one article to other articles.
The problem is, which article you should link to?
You should link to any of your own existing articles that are relevant to the current article you're writing. For example, if you're writing a tutorial about theme customization, link to an article about theme customization. There is a general rule on how many internal links you should create, but the more is better.
Take a look on this internal link I built on my article about adding popup contact form where I linked to another tutorial about enabling the CSS Classes in WordPress menu. I found those two articles are somewhat relevant, so I think people might get interested to read
Build Internal Link Effectively with WordPress
1. Highlight any phrase you want to link to another article.
2. Click on Insert/Edit link from TinyMCE editor.
3. A popup will open. Click on the "Search bar" to start searching existing content. A drop-down will open showing all your previous articles.
4. Here's a tip. Use the search function. It will filter all relevant articles. Let say my keyword is "popup", so I type in the search form and it'll show all relevant article about popup from all of your articles.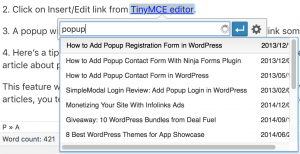 This feature was introduced in WordPress 3.1 and is very useful if you have written hundreds or thousands of articles on your site. When there are too many articles, you tend to forget whether you have any relevant article to link to,